Steel connection software
PowerConnect is the perfect software to design quick and easy different types of steel connections. Watch some videos, look at the brochures or read more about the advantages of PowerConnect.
Connection types
Moment connections
End plate, angles or welded
Extras: haunches, stiffeners, ..., ...
Optimal bolt positions
M, V and N
Rotational stiffness graph
Shear connections
Shear end plate
Fin or single plate
Angles
Optimal bolt positions
V and N
Column bases
I or rectangular cross-section
Stiffeners and cramps
Straight or bent anchors
M, V and N
Rotational stiffness graph
Tubular connections
Type T, Y, DY, X, K, N, KT & DK
Round, square, rectangle or I cross-sections
M_i, M_o and N
Fast and easy steel connection design with PowerConnect
Input
Easy and fast definition of connections from an extensive library of typical connection designs.
Quick graphical editing of connection with a simple mouse click, directly on the 3D representation.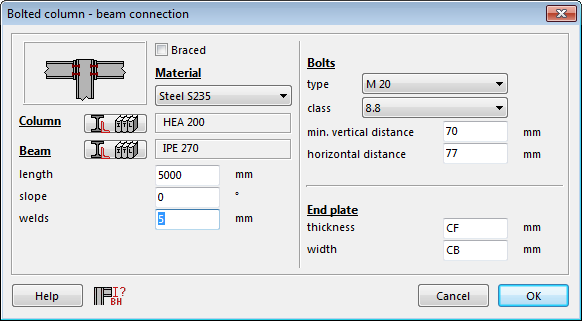 Analysis
Optimization of bolt positions according to EN 1993-1-8, IS 800 and AISC-LRFD.
Fast identification of undersized and oversized components through colour coding on connection geometry of each component's level of exhaustion.
Reports and drawings
Creation of drawings including annotation. Export capability to DXF, allowing for further elaboration in CAD environment.
Automated creation of design analysis report with preview capability. Report can be saved as RTF file.
30-days testing all the possibilities, free of charge
Licenses and pricing
Purchase
perpetual license
one-time investment
support (if with maintenance contact)
updates (if with maintenance contact)
price: via quotation
Subscription
license limited in time
recurring amount per 6 months
updates
support
Price: (from)

57€

per month
Lease
at the end perpetual license
purchase spread over 2 years
updates
support
Price: via quotation